Ozark Meadows Senior Apartments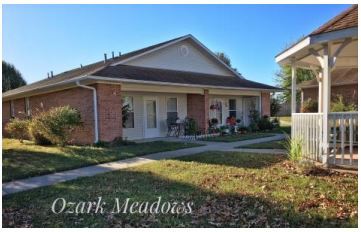 Address:
116 Clive Street
Property Contact:
Susan Vernier
Office Phone:
(870) 423-6860
Additional Info:
Click here to download an application for housing. 


Hours: Monday - Friday, 9:30 am - 1:30 pm
Ozark Meadows Apartments is a housing complex with twenty energy-efficient apartments developed for senior citizens, including a number of units specifically designed for seniors with mobility, hearing or visual impairments. Each apartment has central heat and air conditioning and is equipped with a range, frost-free refrigerator and an emergency signaling device. The complex also includes a community building, which houses a multi-purpose room, laundry facilities and a manager's office. The Carroll County Senior Activity Center offers daily van service from the complex to the center.
Rent for qualified applicants is subsidized with HUD funds. To qualify, the head of household must be 62 years of age or older. The household must have an annual income of no more than $16,900 for one person or $19,300 for two people. Rent is based on adjusted income, which is income less allowable medical expenses, with preference given to extremely low-income seniors. Applications may be completed online. Additional information regarding apartment rental and applications may be obtained by calling the housing manager at (870) 423-6860 or by email. You may also call the Harrison office at (870) 741-1144; toll free at (800) 432-9721, or TDD at (870) 741-1346.
Ozark Meadows does not discriminate on the basis of disability status in the admission or access to, or treatment or employment in its federally assisted programs and activities.