Fallen Ash Senior Complex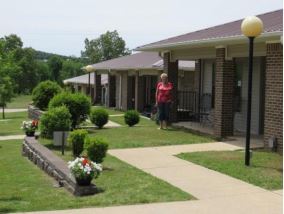 Address:
282 W. Industrial Park Road
Property Contact:
Mary Jane Erwin
Office Phone:
(870) 453-4214
Additional Info:
Click here to download an application for housing.
Click here to download the waiting list policy.
Click here to download the HUD 92006 form.
Click here to download the Tenant Selection policy.
Office Hours: Monday - Friday 9:00 am - 1:00 pm
Fallen Ash, a housing complex with 20 energy-efficient apartments developed for senior citizens, includes a number of units specifically designed for seniors with mobility, hearing, or visual impairments. Each apartment has central heat and air conditioning and is equipped with a range, a frost-free refrigerator, washer/dryer connections and an emergency signaling device. The complex also includes a community building, which houses a multi-purpose room, laundry facilities and a manager's office. The complex is located in Flippin on W. Industrial Park Road (Hwy 178/62 intersection).
Rent for qualified applicants is subsidized with HUD funds. To qualify, the head of household must be 62 years old or older. The household must have an annual income of no more than $18,400 for one person or $21,000 for two people. Rent is based on adjusted income with preference given to extremely-low income seniors. Additional information regarding apartment rental and applications may be obtained by calling the housing manager on site at (870) 453-4214 or by e-mail. You may also call the Area Agency on Aging of Northwest Arkansas at (870) 741-1144; toll free at (800) 432-9721; or TDD at (870) 741-1346.
Fallen Ash does not discriminate on the basis of disability status in the admission or access to, or treatment or employment in, our federally assisted programs and activities. If you are disabled and would like to request an accommodation or if you have difficulty understanding English, please request our assistance and we will ensure that you are provided with meaningful access based on your individual needs. Federal civil rights laws addressing fair housing prohibit discrimination against applicants or tenants based on one or more of the following classifications: race, color, national origin, sexual orientation, gender identification, disability, religion, and familial status.